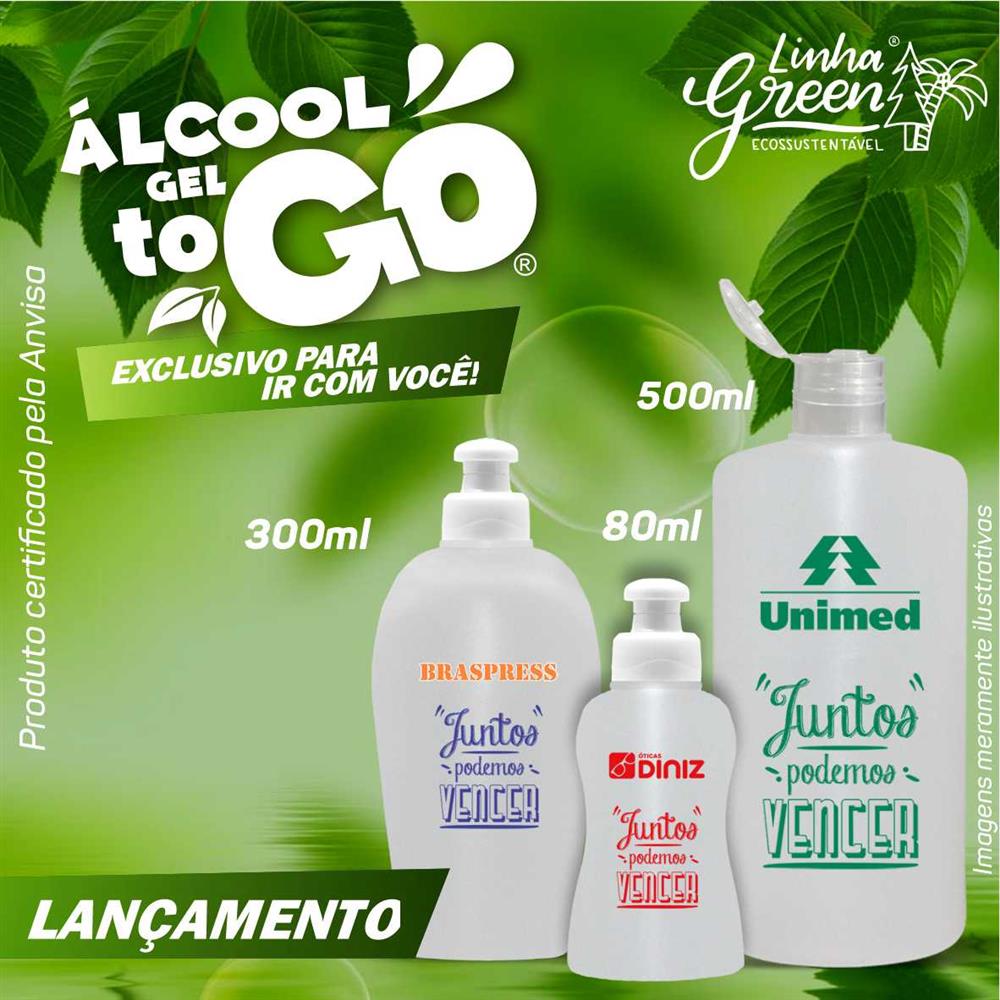 O Grupo BB lança, com exclusividade, o Álcool Gel To Go, desenvolvido para proporcionar segurança, higiene e bem-estar, atuando de forma completa na prevenção contra a proliferação do Coronavirus. Elaborado a partir de álcool 70%, combate 99,9% dos germes durante a higienização das mãos, favorecendo a saúde de todos!
O Álcool gel To Go também é hidratante, porque além da composição de álcool 70%, ele é fabricado com ativos que proporcionam a retenção de água na pele, diminuindo o impacto do ressecamento provocado pelo álcool e protegendo a sua pele por mais tempo.
Ao adquirir o Álcool gel To Go você está participando ativamente de nossa responsabilidade social! Isto porque ele leva o nosso selo Linha Green Social, visto que 3% do volume vendido do produto é doado em forma de Álcool Gel para projetos sociais e comunidades carentes que integram a Liga da Esperança – projeto social mantido pelo Grupo BB, ajudando a fomentar e tornar o mundo cada vez melhor.
Com o uso do Álcool gel To Go, você assume a responsabilidade social de desempenhar boas práticas na prevenção de toda a sociedade, sem falar nas ações positivas que estará levando para sua família e amigos.
Os frascos possuem capacidade para 30ml, 80ml, 300ml e 500ml, ideais para cada momento do seu dia e adequados à sua necessidade.
O Álcool Gel To Go é o produto ideal, pois baseia-se nos três pilares da sustentabilidade: viabilidade econômica, responsabilidade social e responsabilidade ambiental, contribuindo de forma positiva na sociedade, bem como reforçando a responsabilidade socioambiental e o posicionamento ecossocial do Grupo BB nas atitudes e escolhas voltadas para um mundo mais igualitário.
To Go
O conceito To Go foi pensado nas pessoas e no bem comum de todos. Foi criado especialmente para "ir com você" e proteger a sociedade de germes e vírus que podem causar danos à saúde. O produto poderá ser utilizado em diferentes situações, como em bolsas, mochila, bolso de calças e bermudas, carro, mesas, escritórios, casa e em qualquer lugar que seja de fácil acesso.
Diferentemente do álcool usado para limpar superfícies, em que a concentração de álcool é menor e não elimina adequadamente vírus e bactérias, o álcool Gel To Go possui componentes antissépticos capazes de atuar de maneira eficaz na prevenção de diversas doenças.  
 Seguindo o conceito premium do Grupo BB, de responsabilidade e compliance, o Álcool Gel To Go é fabricado com qualidade e atoxidade certificadas, atendendo as conformidades e regulamentações da Agência Nacional de Vigilância Sanitária (ANVISA).
Confira os benefícios do Álcool Gel To Go
•   Hidratação prolongada : Com propriedades umectantes, o álcool gel ToGo cria uma película que protege a pele, evitando a perda de água, proporcionando hidratação prolongada. 
•   Ecossustentável: Fabricado a partir de componentes ecologicamente corretos, o Álcool Gel ToGo respeita e colabora com a preservação do meio ambiente.
•   Green Social: Ao comprar o Álcool Gel ToGo, você estará fazendo parte de nossa ação social pois 3% do volume das vendas deste produto serão doados em Álcool Gel ToGo para comunidades carentes e instituições de caridade.
•   Álcool 70º: O Álcool Gel ToGo possui a concentração correta para a eliminação de 99,9% de germes e bactérias, sendo o mais indicado pelos órgãos de saúde.
•  Dermo Testado: O Álcool Gel ToGo é desenvolvido com fórmula segura, sem presença de ativos que causam reações alérgicas e segue o padrão das normas da ANVISA para contato continuo com a pele.
•  Não testado em animais: Todos os testes dermatologicos e de atoxidade do produto não são realizados em animais, respeitando assim a vida em todos os seus aspectos.
•  TO GO: O Álcool Gel To Go foi feito para proteger e estar com você em todos os momentos, por isto as embalagens foram pensadas de forma a permitir que você sempre tenha  ele por perto!
Gustavo Coutinho
redator/ Grupo BB